Introducing Shizuoka MINI HACCP / FSSC 22000(The 2nd Factory)
Intensive Hygiene Controls
Preventing Food Contamination
Before entering our plants, every single employee goes through the air shower booth to remove dusts and hairs and washes their hands. This reliably prevent intrusion of foreign materials and bacterial contamination. We also pay special care to avoid entries of insects by combination of automatic shutters, sheet shutters and air conditioning. All windows in our factories are fixed to shut out dusts and dirt.
Organic JAS Certification
Kanes is certified as the Organic JAS (Japanese Agricultural Standards) manufacturer of green teas, in order to deliver healthier and tasty green teas to our customers.
Organically grown green teas are produced under an agricultural method which are capable of sustaining and enhancing the natural recycling without synthetic fertilizers and agricultural chemicals. All agricultural products (in our case, organically produced green teas) labeled as organic are also attached with the Organic JAS Logo.
No products are allowed to be sold as "organically grown plants" or "organic" without the Organic JAS Logo.
Quality Preservation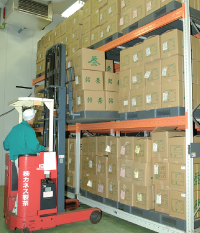 Our tea quality is guaranteed by the low temperature refrigerator set at -10 degree celsius and the anteroom maintained at 0 degree celsius.
Associated Inspection Organization
Ingredients Testing/ Pesticide Residues Testing
EcoPro Research CO., LTD
Registered inspection body under "The Food Safety Basic Law" of Japanese Ministry of Health, Labour and Welfare

Hygiene Controls
Chubu Food & Environment Safety Center Co., Ltd
Registered inspection body under "The Food Safety Basic Law" of Japanese Ministry of Health, Labour and Welfare

Radioactivity Testing
Japan Frozen Foods Inspection Corporation
Registered inspection body under "The Food Safety Basic Law" of Japanese Ministry of Health, Labour and Welfare